Infrared Sauna
Sweat Sessions at our Pittsford NY Studio
RESTORATIVE INFRARED SAUNA
Visit us in Pittsford for a dedicated sauna session or schedule sauna time to complement a massage, detoxifying foot bath, sound bath, or Migun massage table session. Our dry saunas feature both Infrared Radiant Heat and Chromotherapy Lighting.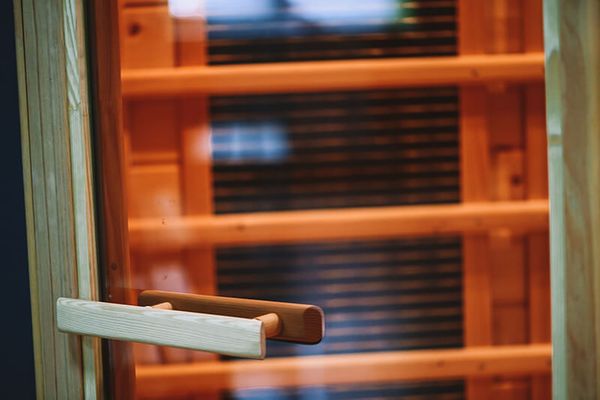 Why Choose Eutierria's Infrared Saunas?
We offer 30, 45, and 60-minute sessions.
Our Pittsford location is very private, calm, and unintimidating.
Sauna sessions can be combined with other wellness experiences.
Our practitioners are here to help you.
Full towel service.
Our infrared sauna sessions are affordable.
New clients can book two 30-minute sessions for just $30!
No membership is required. Book a la carte or save with a Frequent Sweater's Pass.
Sauna Etiquette at Eutierria Wellness
Please arrive on time for your appointment. If it's your first sauna session with us, please arrive 15 minutes early.

Don't worry about bringing anything. We provide towels, water, and everything else you need.

If you have any questions, please call or email Evelyn.

We recommend you come product-free. Ensure your body is free of deodorant, excess oils, lotions, make-up, and perfume. Clean skin will ensure optimal absorption of infrared wavelengths and maximize detoxification.

We recommend using stainless steel or glass water bottles with caps in the sauna. Drinking plenty of water before, during, and after your sauna session ensures that you stay hydrated.

It is best to use the sauna without any clothing on. However, we do provide robes if needed.

Sauna doors are made of glass – please handle them with care.

Be mindful of others. If you have chosen to sauna with a friend or loved one, please keep conversations and music to a considerate volume.

Taking cell phones and other personal electronics into the sauna is discouraged. This is a time to relax and get away from the outside world.

Upon completion of your session, we kindly request that you place any used towels and robes in the designated laundry receptacle.

Be mindful of where you place your jewelry and valuables. Saunafied is not responsible for lost or damaged items.

Hydrate! It is recommended that you drink at least 4 oz of water before the sauna and 8 oz after.

Infrared sauna therapy is at your own risk. Please consult a doctor regarding any medical conditions that may disqualify you from sauna use.

Sauna use is not permitted during pregnancy.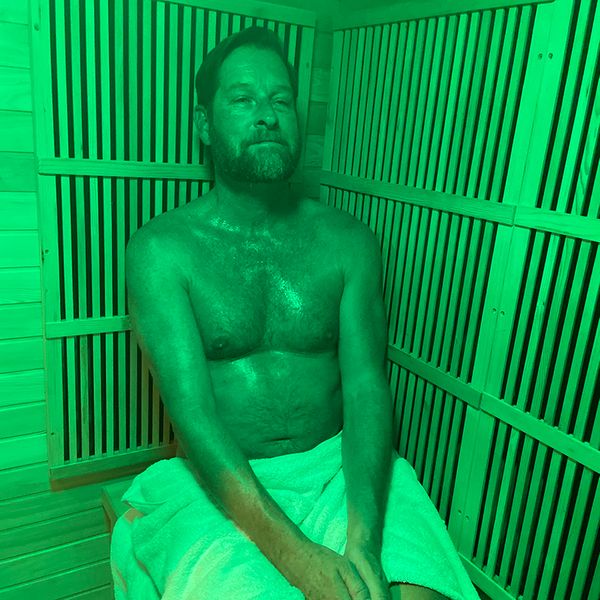 Why Use an Infrared Sauna?
Infrared saunas are not like traditional saunas. They don't heat the surrounding air. Infrared lamps, which use electromagnetic radiation, warm your body. Infrared saunas are supported by those who believe that heat penetrates deeper than heated air. This allows for a deeper sweat and lower temperatures.
Infrared saunas cause your body to respond with increased heart rate, dilated vessels, and sweat production. A sweat session can help you relax, loosen up tight or stiff muscles, reduce joint pain, and give you some much-needed time for yourself.
Eliminates Toxins

Relieves Pain

Burns Calories

Loosens Stiff Joints

Aids Weight Loss

Reduces Tension

Rebalances the Body

Strengthens Immune System

Improves Skin Tone
Weight Loss
Thirty minutes in an infrared sauna can burn up to 600 calories! Lose weight the easy way by letting your body do the work. Also, fat becomes water-soluble at 110 degrees F, fat molecules can be released out of your pores during your session.
Detoxification
Daily, we are exposed to countless toxins that come in food additives, industrial chemicals, alcohol and numerous other forms. A natural way to get rid of these toxins is by sweating them out, and infrared saunas are great at generating sweat.
Pain Relief
The infrared wavelengths increase blood circulation, allowing oxygen to get transported to areas of discomfort.
Skin Rejuvenation
When toxins are removed from your body, you can experience healthy, radiant skin. Many users of infrared saunas have also experienced reduced fine lines and wrinkles.
New Client Special
First-time sauna clients can purchase two 30-minute sauna sessions for just $30!
Frequent Sweaters Pass
Get more flexibility and more sauna time! The Frequent Sweaters Pass gets you 240 minutes of sauna time redeemable within 90 days of your first punch.